DANGER AHEAD: Public Wi-Fi!
---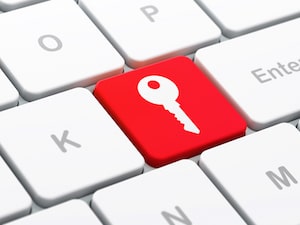 October is National Cyber Security Awareness Month. Cyber security begins with a simple message that everyone using the Internet should always consider: STOP. THINK. CONNECT.
This is particularly true when it comes to using public Wi-Fi. This service is both a convenience and a curse. Free Wi-Fi lures customers to stick around the café longer and order a second cup of coffee. Hotels, airports and trains offer free Wi-Fi as a complimentary service to busy travelers. Public libraries offer Wi-Fi as a free service to the community and most universities provide the service to their students.
As a Wi-Fi user, stay on the alert. Never assume a Wi-Fi hotspot is secure because most hotspots don't encrypt information. Even users with limited technical know-how can use free hacking tools to gain access to your personal and financial information when you are using public Wi-Fi.
When using public Wi-Fi, protect yourself and your information with the following tips:
Log in or send personal information only to websites you know are fully encrypted. Each site you visit should be encrypted from the time you log on to the site until you log out. Some Wi-Fi networks do use encryption. WEP and WPA are common, but they might not protect you against all hacking programs. WPA2 is the strongest. If you find yourself on an unencrypted page, log out immediately.
Don't get lazy with your passwords. Do not use the same password for multiple accounts or sites. If someone gets that password and gains access to your account, there's no stopping the hacker from gaining access to all accounts if they share the same password. Also, don't stay permanently logged in to your accounts. Log out of the account after each visit is complete.
Be very cautious about visiting fraudulent websites and downloading programs that can actually be malicious programs. Keep your browser and security software up-to-date, plus browser add-ons or plug-ins can help. For example, Force-TLS and HTTPS-Everywhere are free Firefox add-ons that force the browser to use encryption on popular websites that usually aren't encrypted. They don't protect you on all websites — look for https in the URL to know a site is secure.
If you regularly use Wi-Fi hotspots to access your accounts, use a virtual private network (VPN). VPNs encrypt traffic between your computer and the internet, even on unsecured networks. Contact a VPN service to set up a personal VPN account. VPN options are available for mobile devices and can encrypt information sent via mobile apps.
Change the settings on your mobile device so that it doesn't automatically connect to nearby Wi-Fi. By doing this you have more control over when, where and how your device uses public Wi-Fi.
Before logging on to public Wi-F, protect yourself by remembering that cyber security slogan: Stop. Think. Connect. For more information on how to securely use Wi-Fi, give your local Computer Troubleshooters office a call and one of their technology professionals will be happy to work with you.
---
---